Multiphoton Microscopy
Multiphoton microscopy is a powerful in vivo imaging technique because of its ability to image in three dimensions at high resolutions. It is made possible by a nonlinear dependence on excitation intensity, which localizes the resulting signal to the focal volume of the excitation light. Unlike conventional fluorescence microscopy, which requires a single photon to excite a fluorophore, multiphoton microscopy requires two (or three) photons with longer wavelengths to generate fluorescence. These longer excitation wavelengths allow multiphoton microscopy to achieve imaging depths significantly greater than confocal microscopy.

We design and build custom two- and three-photon fluorescence microscopes to study the complex vascular and neuronal structures of the cerebral cortex in mice. We also use two-photon phosphorescence lifetime microscopy to precisely measure oxygen concentrations in the neurovasculature. These systems allow us to visualize the cortex at depths and resolutions pushing the limits the optical imaging.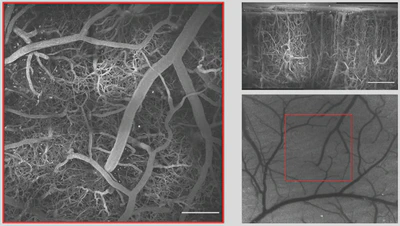 Deep two-photon microscopy: Longer excitation wavelengths permit imaging cortical microvasculature at depths beyond 1.2 mm (Miller, 2022).